sAyana, nirayaNa siddhAMtAlu
rASichakraM guriMchi iMtaku muMdu cheppukunnAmu. I rASi chakrAniki prAraMbha biMduvu ekkaDa annadoka vivAdaM. pratI saMvatsaraM sUryuDu bhUmadhyarEkha paiki vachchE biMduvuni vasaMta vishuvadbiMduvu (#Vernal Equinox)# ani aMTAru. adi sumArugA mArchi 21va tEdIna jarugutuMdi. ArOju bhUmadhya rEkhamIda pagalu, rAtri samAnaMgA uMTAyi. I biMduvE rASi chakrAniki prAraMbha biMduvu ani oka sAMpradAyaM. ilA lekkapeTTE rASichakrAnni sAyana rASichakraM aMTAru. kAnI bhUmi tanachuTTU tAnu tiragaDamE kAka boMgaraMlA dhRvAla daggara aTU iTU UgutU uMTuMdi. I UgE chalanaM phalitaMgA prati EDAdI sUryuDu bhUmadhya rEkha mIdaki vachchE biMduvu koddigA venakki veLLipOtU uMTuMdi (#Precession of the Equinoxes).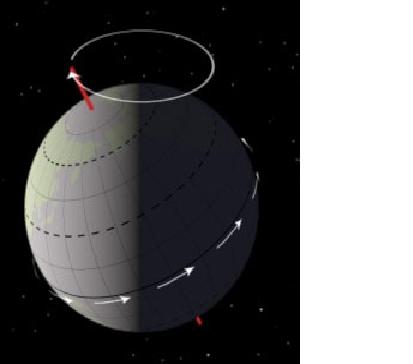 Precession of the Equinoxes
#dIni phalitaMgA rASichakrapu prAraMbha biMduvu kUDA mAripOtU pratI DebbhaireMDu saMvatsarAlaku oka DigrI choppuna venakki jarigipOtU uMTuMdi. kAbaTTi sAyana rASi chakraM aMTE pratI EDAdI prAraMbha biMduvu mAripOyE rASichakraM (#Tropical Zodiac).# dInni pradhAnaMgA pASchAtya jyOtishaMlO upayOgistAru.
ayitE prastutaM prAchuryaMlO unna bhAratIya jyOtiSSAstraM ilA mAripOyE rASichakrAnni parigaNanalOki tIsukOdu. okAnoka sthiramaina biMduvuniMchi rASichakrAnni lekkistuMdi. A rASichakrAnni nirayaNa rASi chakraM aMTAru. vasaMtavishuvadbiMduvukI (aMTE pASchAtya rASichakrapu prAraMbha biMduvukI) I sthirabiMduvukI madhya prastutaM sumAru 23 DigrIla tEDA unnadi. dAnnE ayanAMSa aMTAru. ayitE I sthirabiMduvu ekkaDa uMDAli annadAnipai kUDA jyOtishkulaki EkAbhiprAyaM lEdu. bhAratIya jyOtishaMlO kUDA oka saMpradAyAnikI maroka saMpradAyAnikI I sthirabiMduvu koddigA mArutuMdi. aMTE ayanAMSa mArutuMdi. I ayanAMSalO lAhiri, rAman, dEvadatta, kRshNamUrti modalaina rakAlu unnAyi. ivannI vErvEru rASichakrAlu anukOvachchu.
sAyana rASichakraM pradhAnaMgA pASchAtya jyOtishAniki cheMdinadi. okE vyakti yokka jAtakachakrAnni I reMDu rASichakrAla prakAraM guNistE asalu okadAnikI marokadAnikI sAmyamE uMDadu. oka jAtakaM prakAraM mEshaMlO sUryuDuMTE, maroka jAtakaM prakAraM mInaMlO uMTADu (bhAratIya, pASchAtya rASichakrAla madhya 23 DigrIla bhEdaM uMdi kAbaTTi). adE vidhaMgA bhAratIya jyOtishaMlO kUDA ayanAMSa bhEdAla prakAraM aMta kAkapOyinA koddi bhEdaMtO (oka DigrI sumAru) rASichakrAlu mAratAyi. vITanniTilOnU EdO okaTE sarainadai uMDAli tappa annI sarainavE ani evarU analEru. oka sAMpradAyAniki cheMdina jyOtishkulu tama sAMpradAyamE oppanI migatAvannI tappanI anaDaM jarugutUnE uMTuMdi. kRshNamUrti paddhativALLu rAman paddhatini niMdiMchaDaM, lEdA mottaMgA nirayaNa sAMpradAyaMvALLu sAyana jyOtishaM tappanI, eMdukU panikirAnidanI anaDaM viMTUnE uMTAmu.
koMtamaMdi bhAratIyulu sAyana rASichakramE sarainadani aMTAru. vALLa saMkhya svalpaM. kAnI vALLu cheppEdEmaMTE, asalu sAyana jyOtishamE bhAratIyuladanI, nirayaNaM tappu kAvaDamE kAkuMDA asalu bhAratIyula siddhAMtamE kAdanI. eMdukaMTE nirayaNa siddhAMtaM prakAraM vishuvamulU, ayanamulU (#Equinoxes and Solstices)# Rtuvulani anusariMchi rAvu. bhAgavata pramANaM ilA uMTuMdi – mEsha tulalayaMdu mihiruMDahO rAtru laMdu tirugu sama vihAramulanu. (paMchama skaMdhaM, dvitIyASvAsaM, 21va adhyayaM, 79va padyaM.) aMTE mEsha, tulA saMkramaNAla samayaMlO pagalU rAtrI samAnaMgA uMTAyi ani. sAyana siddhAMtaM prakAraM mEsha tulA saMkramaNAlu varusagA mArchi 21, sepTeMbaru 22na vastAyi. A dinAllO bhUmadhyarEkha paina rAtrI, pagalU samAnaMgA uMTAyi. kAnI nirayaNamataM prakAraM mEsha tulA saMkramaNAlu Epril 14, akTObar 14 na vastAyi. A rOjullO pagalU rAtrI samAnaMgA uMDavu. kAbaTTi bhAgavataMlO cheppiMdi sAyanamE ani oka vAdana. ika nirayaNa matastulaki vALLa sababulu vALLaki uMTAyi. Edi tappO, Edi oppO evarU iMtavarakU nirNayiMchalEdu. evari mataM vALLaki oppu.
bhinna jyOtisha sAMpradAyAlu
prAchya pASchAtya jyOtisha sAMpradAyAllO okadAnikokaTi pOlikE uMDadu. rASi chakraM vEru. pASchAtyulaki nakshatrAla vibhAgamE lEdu. grahadRshTula nirvachanamE mAripOtuMdi. pASchAtya jyOtishaMlO rAhu kEtuvulaki prAdhAnyaM chAla takkuva. yurEnas, nepTyUn, plUTOlanu vALLu grahAlugA parigaNanalOki tIsukuMTE, chAlAmaTuku bhAratIya sAMpradAyAlu vATini lekkalOki tIsukOvu. aMTE oka sAMpradAyaMlO rAhu, kEtuvula kArakatvAlu maroka sAMpradAyaMlO mAyamainaTTE. alAgE oka sAMpradAyaMlO yurEnas modalaina grahAla kArakatvAlu maroka sAMpradAyaMlO pAta grahAlatO sardukupOvalasiMdE. alAgE vALLa daSA paddhatulu vEru, vILLa daSA paddhatulu vEru. okadAni phalitAlakI, marokadAni phalitAlakI poMtanE uMDadu. mari I reMDu sAMpradAyAllO evariki vAridE satyamani dRDhamaina nammika.
iMkA bhAratIya jyOtishaMlO kUDA chAlA sAMpradAyAlunnAyi. udAharaNaki kRshNamUrti paddhatikI migatA sAMpradAyAlakI chAlA tEDA uMTuMdi. jaiminIya sUtrAlni upayOgiMchEvAri paddhatulu migatA paddhatulakannA bhinnaMgA uMTAyi. ivi kAka chAlA rakAla daSApaddhatulu unnAyi. vITanniTivallA okaTE phalitAlu vastAyi aMTE nammaDaM chAlA kashTaM.
alAgE bhAvAlni gaNiMchaDAniki iMchumiMchu padhnAlugu paddhatulu unnAyi (plAsiDas, kOch, kAMpanas, meriDiyan, rejiyomoMTAnas modalainavi). oka padhdhatikI maroka paddhatikI bhAvAla biMduvulu mAripOtAyi. bhAratIya jyOtishaMlO ayitE chAlAmaMdi lagna biMduvuni tappa migatA bhAvAla DigrIlani paTTiMchukOru. lagna rASi nuMchi lekkapeTTi okkO rASinI okkO bhAvaMgA parigaNiMchEstAru.
mari inni gaMdaragOLAluMDagA asalu koMdarikainA jyOtishaM pani chEstunnaTTugA eMdukanipistuMdi?